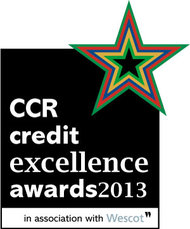 The CCR Interactive is a one day event which includes the Credit Excellence Awards and Awards Dinner. CCR Interactive is an event held to celebrate excellence in the credit industry. The event is run organised by the publishers of CCR, CCR International and CCR Public Sector, all highly regarded industry journals. CCR Interactive has recently announced the new sponsor for their event will be Wescot Credit Services.
Wescot Credit Services specialise in debt recovery by practicing both extreme diligence on behalf of their clients as well as a total dedication to treating customers fairly, making sure all parties are satisfied with the outcome of a debt situation. Wescot is one of the largest firms of its type in the country; they employ over 650 staff in offices ranging across Glasgow, Hull and Saltcoats who serve over 5 million account holders every year.
Wescot are committed to sponsoring the CCR Interactive event in order to help promote the highest possible industry standards, fairness and the exchange of ideas between leading companies. Chief Officer of Wescot Credit Services Paul Jenkins explained how valuable they themselves had found past CCR Interactive events as well as how important it is for companies to take accountability for encouraging thought provoking debate.
Paul Jenkins of Wescot continued to explain how, during a period of unprecedented change and uncertainty across the credit industry; it is more important than ever to sponsor and promote events like CCR Interactive. By setting an agenda that will attract high calibre speakers, the team at Wescot hope to enjoy the discussion of genuine industry experts who can promote the value of business ethics and encourage greater industry standards. Although Wescot Credit Services are already dedicated to treating customers fairly, they always strive to improve their customer services.
The organisers of CCR Interactive have spoken about how pleased they are to enjoy the sponsorship of Wescot Credit Services. In order attract the best possible speakers and have the greatest impact it is important for the event to be represented by a reputable sponsor. As a major company, Wescot perfectly represent the standards of excellence and dedications to fair customer treatment that CCR Interactive and the Credit Excellence Awards stand for.
Wescot are looking forward to a productive day of knowledge and networking.